Do you know? Actual conditions of energy consumption in factory process lines.
Most of the fixed consumption consists of hydraulic unit, oil cooing, and coolant pump. Though it is important to reduce these three parts, nobody touched this area because of direct influence on production. Energy-saving activity by reviewing machining facilities is indispensable to protect environment and improve productivity.
45% of total power consumption in factory is consumed in machining line.70% of machining line is the fixed consumption regardless of production volume.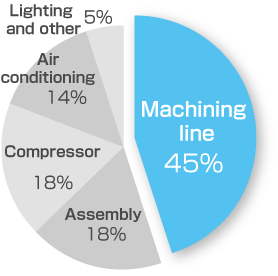 Power consumpion of line in factory