1. Multi-stage pressure/flow rate control(16 PQ control setting patterns) Featuresd with standard models
■The force (pressure) and speed (flow rate) of the actuator (cylinder) can be controlled with 16 pressure (P) and flow rate (Q) setting patterns.
The proportional control valve and proportional pressure control valve, which are utilized in conventional actuator circuits, are not required. Once the pressure and flow rate have been set at the controller's operation panel, you can select 16 preset patterns using external input signals.
The SUPER UNIT autonomously changes the control mode from flow rate control to pressure control (example: flow rate control is changed to pressure control at the cylinder stroke end).
The solenoid valve that actuates the cylinder must be turned ON/OFF at the machine.
■Smooth changing of force (pressure) and speed (flow rate)
Once acceleration time and deceleration time parameters are registered, the force or speed can be changed gradually during a pressure/flow rate setting change.
Example of PQ control setting patterns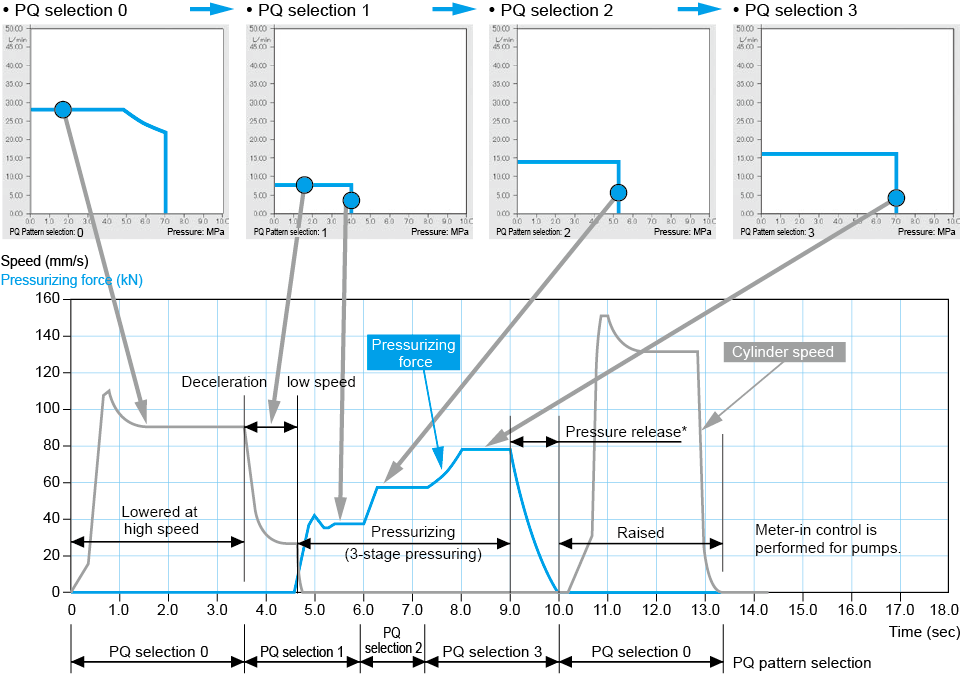 *: When pressure release control is disabled, an additional pressure release circuit should be provided for the load side.